Iloilo Development Updates December 2009
Here is a quick list of the recent developments in Iloilo. This is not comprehensive, you can leave a comment if you know of any other developments going on around Iloilo.
CBD Revitalization Project – Central Market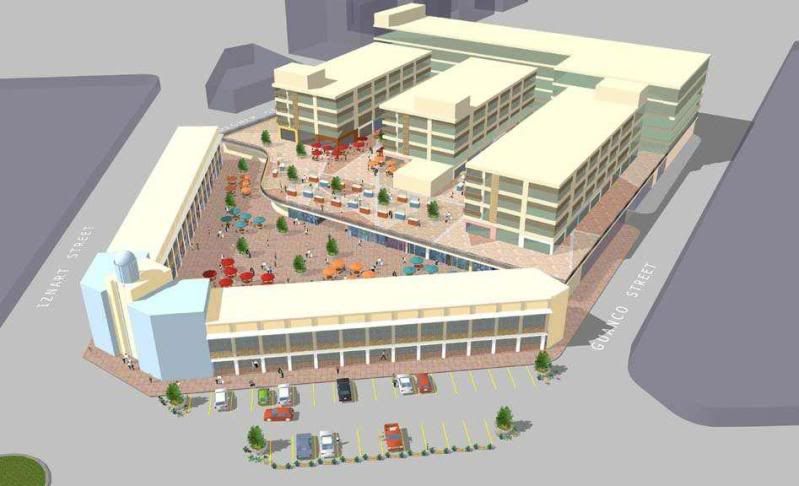 The redevelopment of the Iloilo City Central Market site into a mixed use complex.
WVCST Entrepreneurial Lane
WVCST Entrepreneurial Lane is a project of Western Visayas College of Science and Technology (WVCST) that will have a row of spaces available for lease in response to the government's call that state universities and colleges should formulate business plans as alternative ways to come up with additional resources to augment the yearly allocation. The proposed one-storey commercial establishment is located along Burgos Street in Lapaz in front of the main campus of WVCST in Lapaz. It is envisioned to cater to the growing demands in the field of Information and Communication Technology.
Iloilo Society Commercial
Iloilo Society Commercial is a budget-friendly and complete grocery retail store in Iloilo with existing 2 branches in the downtown. It has been the supplier of goods to many sari-sari stores in the city and nearby towns and provinces with its wholesale packages that are really for business not to mention their catchy tagline: "Presyo Barato, Pwede Manegosyohan!". They are now constructing a bigger store in Jaro replacing the building that used to be the Kia Motors showroom right at the entrance of Metropolis Subdivision.
KAPIDECO Estate
The Kauturan Pison Development Foundation Corporation (KAPIDECO) is set to transform the massive land area in Mandurriao that used to be Salt Beds into a city within a city. They envisioned the area to be the location of the mid rises in Iloilo with buildings for offices and for the growing IT industry. There would be hotels, schools, retail arcades and workplaces as planned. Ateneo de Iloilo new Campus that stands on KAPIDECO and has been given at least 1 hectare of land donation is near completion. This will surely complement with the developments in Smallville-Boardwalk area along with the expansion of SM Prime Holdings, the kipping Mega World Project and the currently under construction Plazuela de Iloilo that will definitely bring Iloilo unto higher notch in the developments.
Iloilo's 2nd Flyover
The 2nd flyover to be constructed in Iloilo will commence construction any moment. It is located along the intersection of Gen. Luna and Jalandoni Streets near the University of San Agustin. Aimed to address the bottlenecking traffic in that area, the second installation of flyover in the city has raked unfavorable judgment to some people especially with the cutting of century old trees in the area that has ruined the well landscaped Gen. Luna Street. Nevertheless it will definitely benefit the frequent users of the intersection when the flyover is operational.
El Grande Resort Spa and Convention Center
The Centennial Resort and Convention Center has been rebranded into El Grande Resort Spa and Convention Center. Located at Phase IV, Marikudo St, in Alta Tierra Village in Jaro, Iloilo City the new resort spa and convention center was launched last November 18, 2009 under a new management. The El Grande Resort Spa & Convention Center was refurbished to have Spanish influenced interiors, adding elegance and comfort to the already sweet haven. It has 58 well-appointed hotel rooms, a specialty restaurant (El Comedor), Sports Circle and swimming pools with complete amenities, a spa (Sanctuary Spa), gym and a convention center that could accommodate up to 1000 participants.
Avida Subdivision of Ayala Land
Following the publicity that Ayala Land is building a technohub in Iloilo here is another great news for the Ilonggos, AyalaLand plans to put up their mid scale subdivision in Iloilo. The Avida series of Ayala Land has been conceptualized for some time to accommodate the OFWs and mid earner Filipinos who want a more decent living.
The Grand Tower
The Grand Tower is an expansion of the well-known Chinese inspired Iloilo Grand Hotel. The former TTK Tower that housed the imperial appliance showroom and GSIS Iloilo Office has been transformed into a hotel with family KTV and restaurants. The famous Grand Palace Cuisine of Iloilo Grand Hotel was also opened, serving favorite Chinese dishes. There is also a turo-turo style available.
Mang Inasal/ Injap Building Lapaz
The old location of Andoks in front of Gaisano City Lapaz was acquired by Injap's Corporation and said to host the headquarters of Mang Inasal Philippines and other businesses of Ilonggo titan Mr. Edgar "Injap" Sia.
Photo courtesy: Ken7, steadyasweroll
Category: Business, Real Estate